VIDEO WALL INSTALLERS Belfast
Video walls create an engaging environment that brings commercial spaces alive even in the world's most demanding environments.  
Video walls can be ideal in many commercial spaces to deliver advertisements or informational content across industries such as retail, hospitality, transportation, and other business environments. 
High-resolution video walls create a sharp and modern environment that is aesthetically pleasing in all types of businesses.  
To learn more about our LCD video wall displays contact our team today for more information. 
In a world of distraction, video walls are effective at capturing attention and communicating information to your staff or customers. 
Video walls can help streamline operations by displaying customer information like departure times, restaurant menus or to advertise goods in a retail environment, the options are endless.  
Videos walls allow you to create a more engaging environment that can allow staff, customers or visitors to interact with the shared information.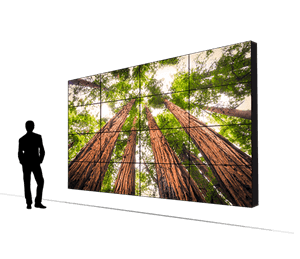 Want to learn more about video walls?
Contact our Belfast team and learn more about how video walls can benefit your business today.
Contact us or Call: 028 9162 1001