Professional Intruder alarm installer
Protecting your home or business with an burglar alarm system should be a priority otherwise you will be an easy target for criminals, leaving your home or business at risk of a burglary.
A burglar alarm system is a great first step in deterring potential criminals and will give you that sense of security that your home or business is protected when not at your home or business.
Give our Edinburgh team a call today to discuss our burglar alarm packages.
Burglar alarm systems are becoming an affordable form of protection, it would be more costly to not invest in protecting your home or business.
Burglar alarm systems can be installed through a wired connection or installed completely wire-free, the choice you make will depend on your circumstances.
Our Edinburgh Burglar alarm team will give you the choice of wired or wireless and suggest the best solution for your home or business.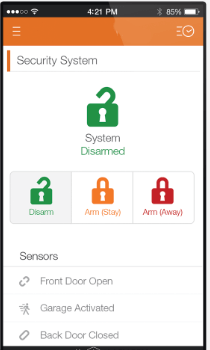 Upgrade to a smart alarm system and control your burglar alarm remotely from your smartphone. 

Activate / disarm your home alarm from anywhere

Push notification when alarm is triggered

Remotely monitor your alarm system

Home Burglar Alarms
PROTECT YOUR HOME TODAY
Burglar alarms have become an essential requirement for most homeowners in protecting their homes.
It's more affordable than ever to have an alarm system installed at your home and in return will give you that sense of security when your home or away. 
Our fitted alarm systems can be upgraded to a smart alarm system to allow you to control your alarm system from your phone, the smart alarm app will allow you to arm, disarm and manage your security even when on the move.
Commercial Burglar Alarms
PROTECT YOUR BUSINESS TODAY
As a business, intruder alarms are a core essential in protecting your business from intrusions.
By installing a burglar alarm at your business premises you will satisfy insurers who often require business premises to be fully protected by an operational intruder alarm system.
Don't take the risk of not having an alarm system installed, it could be a costly mistake, it's better to be safe than sorry, speak to our team today.
You may be interested in our other services….
Check out our CCTV Edinburgh services, a CCTV system can be a great complementary service alongside your burglar alarm system, keep a watchful eye on your home or business while you're away.
Burglar alarms offer peace of mind
It is well known that properties with an intruder alarm system are less likely to be burgled than a property without an intruder alarm system.
For a free, no-obligation on-site survey, get in touch today!